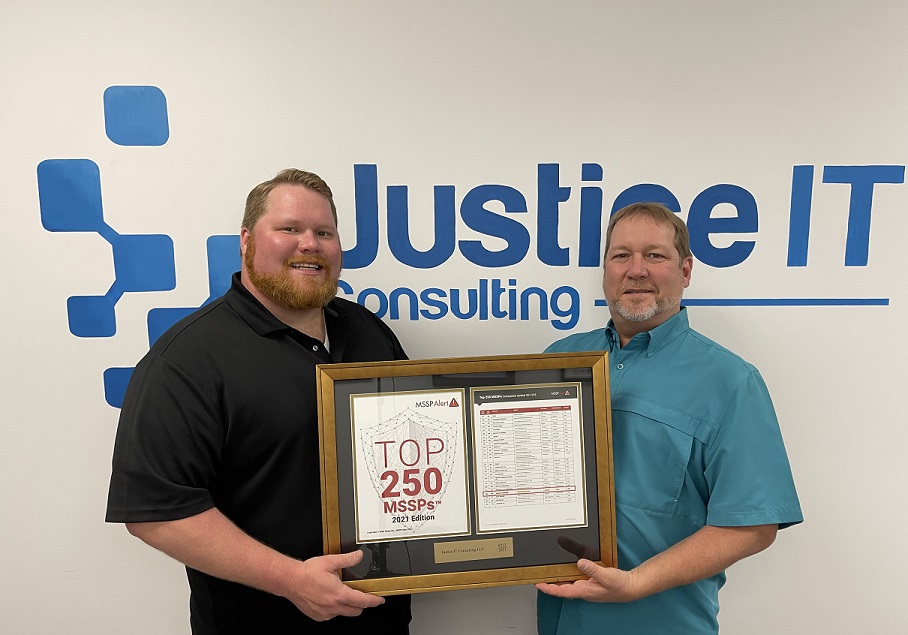 Fifth-Annual List Honors Leading MSSP, MDR and SOCaaS Cybersecurity Companies Worldwide 
November 2, 2021, Burleson, TX -  MSSP Alert, published by After Nines Inc., has named Justice IT Consulting to the Top 250 MSSPs list for 2021 (http://www.msspalert.com/top250).
The list and research identify and honor the top MSSPs, managed detection and response (MDR) and Security Operations Center as a Service (SOCaaS) providers worldwide.
The rankings are based on MSSP Alert's 2021 readership survey combined with the digital media site's global editorial coverage of managed security services providers. The fifth-annual list and research report track the managed security service market's ongoing growth and evolution.
We were thrilled to learn that we were honored as one of the top 250 MSSPs (Managed Security Service Providers) in the world for 2021 by MSSP Alert. Each year, they select the top 250 high growth, market leaders in cyber security. It is truly our pleasure to be honored amongst the highest ranked in our industry and in the world. We're excited to be on the list with the likes of AT&T, Herjavec Group (Robert Herjavec from Shark Tank), and IBM. Thank you to the journalists and editors over at MSSP Alert, our great Justice IT Team members and all our customers who have made this possible.
Austin Justice
Owner
Justice IT Consulting
"After Nines Inc. and MSSP Alert congratulate Justice IT Consulting on this year's honor," said Amy Katz, CEO of After Nines Inc. "Amid continued ransomware, malware and supply chain cyber attacks, the MSSP Alert readership and community continues to mitigate risks for businesses and government organizations worldwide."
Highlights from the associated MSSP Alert research include:
MSSP Revenue Growth & Financial Performance: MSSP honorees, on average, expect to generate $22.3 million in revenue for 2021, up 16% from $19.2 million in 2020. The growth rate remains consistent with last year's report.
Geography: Honorees are headquartered in 26 different countries.
Profits: 85% of MSSPs surveyed expect to be profitable for fiscal year 2021, which is roughly even with 2020.
Security Operations Centers: 71% have in-house SOCs, 19% are hybrid, 8% completely outsource their SOCs, and 2% are reevaluating their SOC strategies.
Cyberattack Trends: The most frequent attacks targeting MSSP customers in 2021 include vulnerability exploits (87%), phishing (96%), and ransomware (89%) incidents.
Cybersecurity Solutions: In a continued sign of market fragmentation, MSSP survey participants mentioned 130 different hardware, software, cloud, and services vendors that assist their cybersecurity efforts -- roughly even with our 2020 report.
New Managed Security Services Offered: In addition to traditional managed security services, capabilities such as MDR (91%) have now gone mainstream. Plus, fast-growth services offered include SOC as a service (76%), XDR (67%), cyber talent as a service (43%) and cloud security posture management (41%).
The Top 250 MSSPs list and research were overseen by Content Czar Joe Panettieri (@JoePanettieri). Find the online list and associated report here: http://www.msspalert.com/top250.
About Justice IT Consulting LLC
Justice IT Consulting was founded in 2003 by Brooke Justice as a "side gig" or as the young-uns call it these days, a "side hustle". Back in those days, Brooke served mainly Burleson business owners helping them with all things IT. Brooke may not have known it at the time but there were bigger things destined for Justice IT Consulting. After years of working in enterprise IT and his "side-gig" in tandem, Brooke decided it was time to make Justice IT Consulting the real deal.
Austin Justice, Brooke's son had spent years working in IT for small and medium businesses. After about a year of throwing the idea back and forth together, Brooke and Austin decided to take the leap together. They figured with Brooke's extensive enterprise knowledge and Austin's capabilities working with small and medium businesses (SMBs) that together they could provide an enterprise level competitive technological advantage to the little guys.
Today Justice IT Consulting has turned into a premier cyber security company and turnkey IT provider for manufacturing, aerospace and defense contractor companies throughout the state of Texas.
About After Nines Inc.
After Nines Inc. provides timeless IT guidance for strategic partners and IT security professionals across ChannelE2E (www.ChannelE2E.com) and MSSP Alert (www.MSSPAlert.com).  ChannelE2E tracks every stage of the IT service provider journey — from entrepreneur to exit. MSSP Alert is the global voice for Managed Security Services Providers (MSSPs).
For sponsorship information contact After Nines Inc. CEO Amy Katz, Amy@AfterNines.com
For content and editorial questions contact After Nines Inc. Content Czar Joe Panettieri, Joe@AfterNines.com